The Society of Jesus participated in the institution of slavery from the colonial era until the passage of the 13th Amendment. Their involuntary labor helped establish, expand, and sustain Jesuit missionary efforts and educational institutions in colonial North America and, over time, across the United States. The Jesuits' use of enslaved labor is a legacy shared by all Jesuits and Jesuit institutions.
Jesuits began relying on Native American and African enslaved labor in the Americas during the colonial period. Jesuits owned close to 2,000 individuals on cash crop plantations in the Caribbean and New Orleans. They also owned enslaved people on the Kaskaskia plantation in what is now Illinois, as well as in the Great Lakes region, especially in Detroit and Canada, but possibly also in Indiana, Ohio and elsewhere in Illinois.
In 1773, the pope forced Jesuits throughout the world to cease operation in response to political pressure from European nations. Only in Russia were Jesuits allowed to continue operating. Throughout their suppression, the Jesuits survived as the "Corporation of the Roman Catholic Clergymen" in Maryland until their restoration in 1814. There, as a means of adapting to the culture in which they lived, the Jesuits relied on indentured and enslaved labor. The Jesuits utilized enslaved labor at Georgetown University and on six plantations in Maryland: White Marsh, St. Thomas, Newtown, St. Inigos, St. Joseph and Bohemia, from the 17th through the 19th centuries.
Enslaved labor supported Jesuit missions in Alabama, Kentucky, Louisiana, Maryland, and Missouri, as well as in Illinois, Kansas and Pennsylvania before they became free states. Georgetown University, Saint Louis University and Spring Hill College in Mobile, Alabama, relied directly upon enslaved labor (as did several colleges that are now closed). In 1838, Jesuits in Maryland sold more than 272 enslaved men, women, and children to Louisiana plantations for the benefit of their ministerial works, including paying the debts of Georgetown University. Other Jesuit colleges benefited indirectly from slavery or were founded by individuals who trained at institutions that depended on enslaved labor.
We now know that Jesuits owned, rented, or borrowed more than 170 individuals in Kentucky, Louisiana and Missouri. As our research continues, it is likely that number will grow.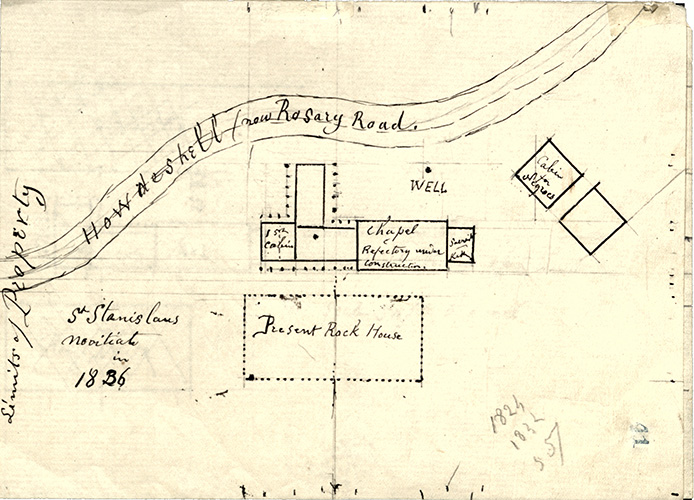 Map of the St. Stanislaus Novitiate that locates a "Cabin for Negroes" in the upper right quadrant, image courtesy of Jesuit Archives & Research Center
In 1823, when the Jesuits expanded their mission from Maryland to Missouri, they brought six enslaved people with them from their plantation in White Marsh, Maryland: Thomas and Mary (Polly or Molly) Brown, Moses and Nancy Queen, and Isaac and Susan Queen-Hawkins. Two more families—about 16 people in total, including Jack and Sally Queen and Protus and Anny Hawkins/Queen, and their children—were forced to move from White Marsh to Missouri in 1829. Most of these individuals left behind family members, some of whom were sent to Louisiana in the 1838 Maryland sale or sold in other smaller sales.
Some of the enslaved families who labored in these regions, including the Browns, Hawkinses, Queens and Goughs, were related to one another, and were forced apart due to sale and expansion of Jesuit missions into Kentucky and Louisiana. Mary and Peter were forced from kin in Missouri to join enslaved communities belonging to the Jesuits in Kentucky. Ignatius Gough, an enslaved man from Maryland, was shipped to Grand Coteau, Louisiana, where he married into the local enslaved community while being held in bondage on the Jesuits' property.
We learn more every day about the lived experiences of these adults and children. We know that their lives were similar to those of other enslaved people in the United States. Although they experienced poor living conditions, physical violence, family separation and the rupture of relationships, enslaved people also displayed resilience, going to courageous lengths to protect themselves and their families, resist their enslavement and achieve freedom.