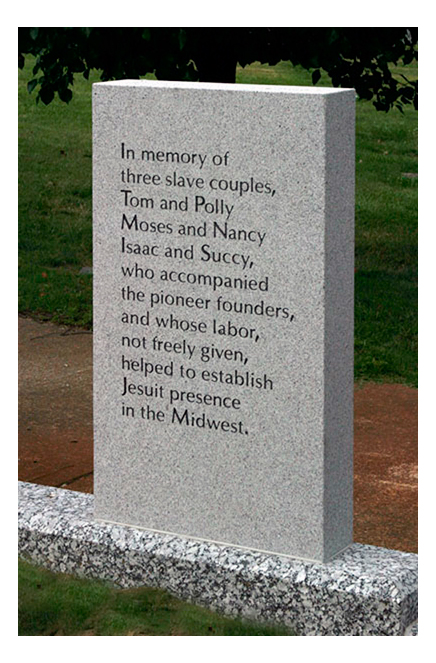 The research into the lives of people held in slavery by Jesuits will continue. Their descendants deserve to know the histories of their ancestors. At the same time, we will search for ways to address the vestiges of slavery that exist in our nation today in the form of racism and inequality. The Jesuits will seek new ways to be in relationship with African Americans, to work together to address the social injustices in our communities that are rooted in slavery.
We are motivated by a desire to uncover the truth of people's stories, to honor their memories and heal relationships, but we acknowledge there is no clear path for us to follow. We hope this project will be a positive contribution to the national conversations on race, prejudice and social justice. It must begin with our own conversations with descendants of the people held in slavery by our predecessors. We hope it will eventually include other members of our communities.
Enslaved people were disregarded and unheard. We will listen to their descendants. We want to learn from them how slavery shaped their families and continues to touch their lives today. We desire to bear witness to their pain and their courage and their ability to overcome. We want to enable them to tell their stories and lead the dialogue process as we move forward.
Click here for resources about how we can work together to find a path toward racial justice and reconciliation.
The image on this page shows a memorial erected in Calvary Cemetery in St. Louis in 2006 by the former Missouri Province. Though they are not buried in Calvary Cemetery, this marker in the Jesuit plot honors the first six enslaved people brought by Jesuits from Maryland to establish the Missouri Mission: Thomas and Mary (also known as Molly or Polly) Brown, Isaac and Susan (called Succy) Queen (alternatively, Hawkins), and Moses and Nancy Queen. As a result of the Jesuits, Slavery, Memory and Reconciliation Project, we now know their full names and more about their lives.