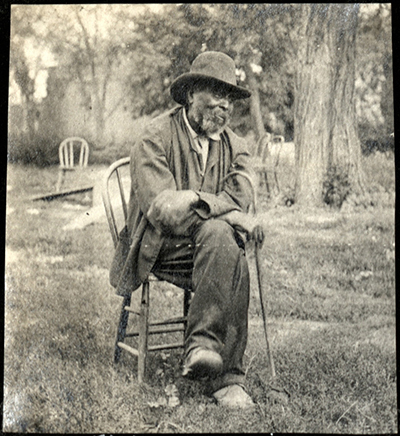 Peter Queen (alternatively, Hawkins) was the first child born to an enslaved couple in the Missouri Mission. Referred to as "Little Peter," he continued to live at St. Stanislaus Seminary even after he was emancipated, until his death around 1907.
It has long been known that the Jesuits who came to Missouri in 1823 brought with them six enslaved men and women—three couples. Their names were Thomas and Mary (Polly or Molly) Brown, Moses and Nancy Queen, and Isaac and Susan Queen-Hawkins. In coming to Missouri, all three couples were separated from family and friends; Moses and Nancy were forced to leave behind their children. Two more families—about 16 people in total, including Jack and Sally Queen and Protus and Anny Hawkins/Queen, and their children—were forced to move from White Marsh to Missouri in 1829. Over time, the number of people held in slavery by Jesuits grew through the birth of children, through purchases and "gifts."
In the new Missouri Mission, Jesuits used forced labor at St. Stanislaus Novitiate in Florissant and at St. Louis College (now Saint Louis University). They also relied on enslaved labor at missionary outposts in St. Charles and Portage des Sioux, Missouri, as well as in Sugar Creek, Kansas. When the Jesuits began to operate St. Louis College in 1829, they transferred several enslaved people from Saint Stanislaus Novitiate to the college in St. Louis. Their work there was similar to that as the novitiate: farming, laundry, room cleaning, and wagon-driving. By 1831, there were at least 26 people held in slavery by the Jesuits; the majority, at least 20, labored on the Jesuits' farm in Florissant, but enslaved laborers circulated between Florissant and St. Louis.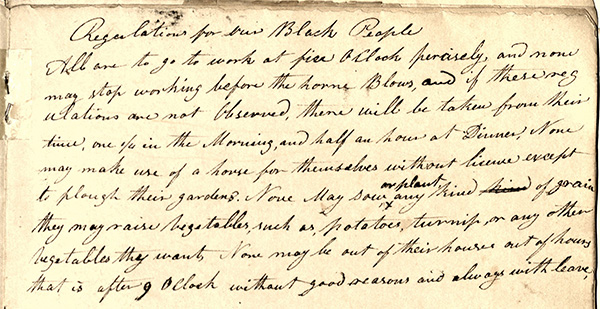 The ledger entry from the Missouri Mission reads: "All are to go to work at five o Clock precisely, and none may stop working before the horne Blows, and if these regulations are not observed, there will be taken from their time, one ¼ in the Morning, and half an hour at Dinner. None may make use of a horse for themselves without license except to plough their gardens. None may sow or plant any kind of grain. they may raise vegetables, such as potatoes, turnips, or any other vegetables they want. None may be out of their houses out of hours, that is after 9 o Clock without good reasons and always with leave."
Enslaved people were baptized into the Catholic Church and were active members of St. Ferdinand's Parish in Florissant or, later, St. Francis Xavier College Church in downtown St. Louis. But they were not free and were treated like property. Their living conditions, especially in the first 10 years of the mission, were crowded and exposed them to extreme weather conditions. They received physical punishments, including whipping. Jesuits were prohibited by their own policies from whipping their laborers, but at least one priest, Charles Van Quickenborne, was reported to have whipped some of the enslaved people. There are also recorded incidents in which Van Quickenborne sold enslaved people as a form of punishment.
Jesuits, the local bishop and other religious orders often lent or hired out their enslaved laborers to one another or to other slaveholders, much like they might have lent or borrowed a piece of equipment. In a telling journal entry, Felix Verreydt, a Jesuit who served as a minister to the enslaved people of St. Stanislaus, wrote, "we heard sometimes their earnest desire to be free in a free country, it was difficult not to say almost impossible to convince them of their happiness."
Records of the Missouri Mission—which became a vice-province in 1840 and a province in 1863—also reveal how people resisted their enslavement, including instances of enslaved laborers escaping their bondage by running away or by purchasing their freedom and that of their family members. Matilda Tyler, for example, was an enslaved woman who succeeded in purchasing her own freedom and that of her sons. Click here to read more about her family's story.
The Jesuits continued to use enslaved labor as the Missouri Mission expanded. By the 1830s, the Missouri Mission included Jesuit schools, churches, and farms in Kentucky and Louisiana. When the New Orleans Mission was founded in 1847, Jesuits in Louisiana fell under its jurisdiction, as did Jesuits in Alabama. Learn more about the history of Jesuit slaveholding in Kentucky.
For a PDF of this document, click here.